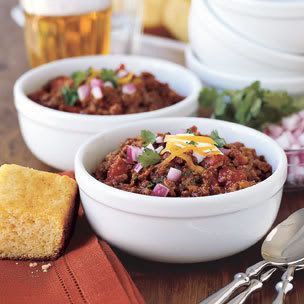 This is another cold weather favorite. I found this one online originally, but I've tweaked it with my own additions.
You Will Need:
2 lbs lean ground beef (or ground turkey)
1 cup chopped onion
1 large green bell pepper, seeded and diced
1 jalapeno pepper
1 Tbs chili powder
garlic powder to taste
salt to taste
pepper to taste
1 Tbs Hot Sauce (you can leave this out if too much spice bothers you)
2 cans (approx. 16 oz each) crushed tomatoes
1 can (16 oz) tomato puree
1 can (16 oz) kidney beans
1 can (16 oz) black beans
To Make:
1.Brown ground beef in a large skillet. Drain and place beef into crockpot.
2. In skillet, saute chopped onion and green pepper in olive oil (or the grease from the beef - I don't use it to make the recipe a little healthier).
3. Mix beef, onion and green pepper into the crockpot and add spices; let stand 1 hour on low heat.
4. Add tomatoes, tomato puree, beans.
5. Cover and cook on low for 7 to 9 hours.